Can You Leave Heated Towel Rails ON Overnight?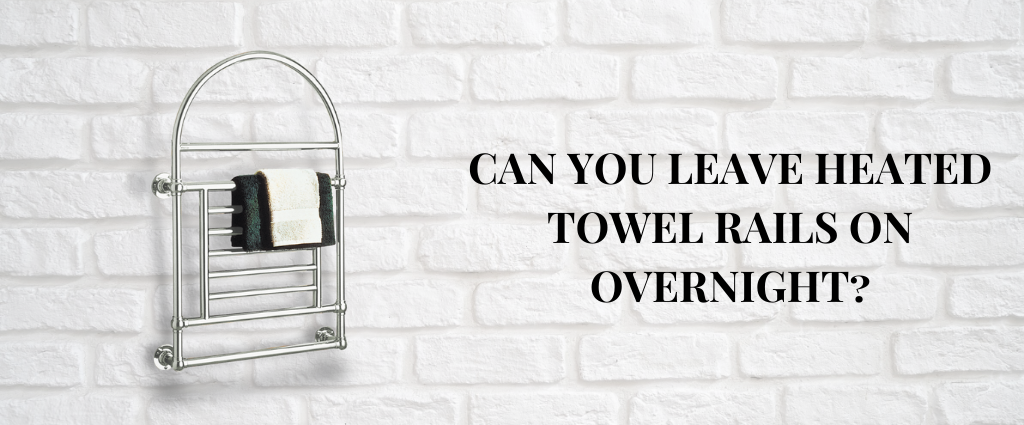 A question asked by many of our customers is "Can We Leave Heated Towel Rails on Overnight?" Heated towel rails are designed to be left on all the time and you don't have to worry about safety issues if you decide to keep them running all the time.
A basic heated towel rail will usually go on and off with the main central heating system. An electrically heated towel rail comes with an on/off switch and has an automatic safety cut-off if the rails start getting too hot.
Is it safe to Leave A Heated Towel Rail On?
Heated Towel Rails are designed keeping safety in mind. Water heaters are built with a system to stay at a constant temperature and not get overheated. Electric water heaters are built with a timer switch that automatically switches off the towel rail, or you can choose to leave it on continually.
Are Heated Towel Rails Expensive to Run?
Heated towel rails are usually extremely efficient and not very costly to run, it will cost about $0.01 to run per hour, about the same cost as a light bulb.
If you have a heated towel rail installed in your bathroom, here are a few steps to avoid your rail being turned on all the time. It will help you your heating bills and make sure that you are doing your part for the environment.
Energy & cost-saving measures - When looking for a good heated towel rail, you will see that many electrically heated towel rails come with smart control functionality, generally managed by an application on your smartphone. This gives you the ability to micro-manage your heating system effectively, ensuring your heated towel rails are turned on only when you need them to be.
Heated Towel Rail Timer Switch - You can also choose a heated towel rail that comes with a timer switch so that you can set it to be on for a certain period of time before you turn it off. This heated towel rail gives you warm and cozy towels when you step out of the shower, but without keeping it on after you are done. It is really an excellent way to keep your heating bills to a bare minimum along with reducing your home's overall carbon footprint.
Choose the Heated Towel Rail that is Financial & Environment Friendly
At Just Rads, you have the option to buy all kinds of heated towel rails as per your needs. We are proud to offer an extensive range of heated towel rails that run efficiently and are also good for the environment.
We make sure that your heating bills are not effected even when you leave your heated towel rail on overnight. So, all in all, can you leave your heated towel rails overnight? You most certainly can without any safety issues whatsoever. All you have to do is make sure that it does not get too hot.
---
Tips to Clean and Bleed Radiators →
← What You Should Look for When You Buy an Electric Radiator